Benton PHA Peeling Content Line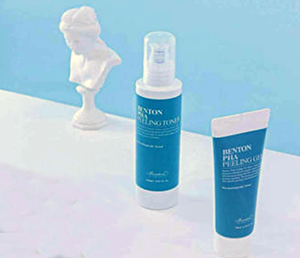 The Moist Glow Exfoliation line is designed to exfoliate delicate skin, leaving it moisturised and less irritated.

cleansing / moisturizing / brilliantly hydrated exfoliation / oil-water balance / mildly acidic / minimal irritation
Contains 3rd generation top-grade PHA. Free of artificial fragrance, colorants, dimethicone or other harmful ingredients.
---
Lactobionic Acid, also known as PHA, is a 3rd generation high quality ingredient similar to AHA and BHA to help cleanse the skin. It helps to penetrate the skin and create a moisture barrier. It also removes relatively high molecular weight impurities from the skin with the least possible strain.
---
Order of application:

Benton PHA Exfoliating Gel:
After cleansing the face, apply the appropriate amount to dry face and spread evenly, avoiding contact with eyes and mouth. Gently massage with fingertips to remove cellulose and dead skin cells. (Recommended use: 2-3 times a week)
Benton PHA Exfoliating Toner:
After cleansing face, dampen a cotton pad and wipe over face! For sensitive skin, test on a small area of skin. (Recommended use: 2 - 3 times a week)
Benton PHA Peeling Gel / 70ml

Description

KEYWORDS

dead skin cells / impurities / exfoliation / sensitive skin / gentle exfoliation / oil-water balance / moisturizing / skin soothing

BENEFITS

• Gentle, 2-step exfoliating gel of the homage type. Physical exfoliation by cellulose from cotton and chemical exfoliation with high-grade PHA. PHA is a third-generation exfoliating ingredient that doesn't have to worry about irritation and photosensitivity, which are deficiencies of AHA and BHA.
• It is dermatologically tested and has a slightly acidic chemistry.
• It can be used on sensitive and dry skin as it is the least irritating and drying thanks to its botanical ingredients.


WHAT DOES
IT SOLVE?

• For rough skin that lacks moisture due to dead skin cells and impurities
• For sensitive skin that needs exfoliation with minimal irritation
• Dry skin that is too tight after cleansing
• For uneven skin tone that is dull even after make-up
• Dry skin that is sensitive to external stressors


MAIN
INGREDIENTS

• Cellulose: Dead skin cells, skin texture care, moisturising
• PHA (lactobionic acid): gentle exfoliation and oil-water balance care
• Chrysanthemum flower extract: moisturizing, soothing, antioxidant, improves skin tone


HOW TO USE?

After cleansing, apply an appropriate amount to dry face and spread evenly, avoiding the eye and mouth area. Gently massage with fingertips to remove cellulose and dead skin cells. Wash off with lukewarm water (Recommended use: 2-3 times a week)
Benton PHA Peeling Toner / 150ml

Description

KEYWORDS

dead skin cells / impurities / exfoliating / exfoliating / sensitive / minimal irritation / oil-water balance / moisturizing / soothing

BENEFITS

• Contains 3% third-generation, top-quality PHA, which no longer carries the defects of AHA, BHA (irritation and photosensitivity). With natural moisturising ingredients, botanicals such as chrysanthemum, this toner provides a brilliantly hydrated exfoliation.
• Dermatologically tested and mildly acidic.
• It can also be used on sensitive and dry skin, as it is the least irritating and drying thanks to its plant ingredients.


WHAT DOES
IT SOLVE?

• For rough skin that lacks moisture due to dead skin cells and impurities
• For sensitive skin that needs exfoliation with minimal irritation
• Dry skin that is too tight after cleansing
• For uneven skin tone that is dull even after make-up
• Dry skin that is sensitive to external stressors


MAIN
INGREDIENTS

• PHA (lactobionic acid): gentle exfoliation and oil-water balance
• Moisturizing agents (sodium PCA, sodium hyaluronate): moisturizing, elasticity enhancing
• Wheat flower water and flower extract: moisturising, soothing, antioxidant, skin conditioning


HOW TO USE?

After cleansing your face, dampen a cotton pad and wipe your face. For sensitive skin, test on a small area of skin. (Recommended use: 2 - 3 times a week)