Benton Cacao Moist and Mild Serum / 30ml

Description

KEYWORDS

cocoa / radiant moisturizing / nourishing / sebum / dermatologically tested / refreshing

BENEFITS

• A rich serum containing more than 80% cocoa ingredients, which are excellent antioxidants and fully nourish the skin.
• Contains hyaluronic acid, Madecassoside and other moisturizing and nourishing ingredients.
• Contains patented skin protecting ingredients and 7 botanical extracts to help regenerate and protect the skin.

WHAT DOES
IT SOLVE?

• For oily skin, teenage skin, etc.
• For skin that needs fresh and soothing hydration without irritation
• Sensitive skin that does not tolerate artificial fragrances

MAIN
INGREDIENTS

• Cocoa extract: Antioxidant, moisturising and firming
• Cocoa seed extract: neutralizes free radicals
• Cocoa flower extract: moisturizing

HOW TO USE?

After prepping the skin with toner, apply an even layer of product to the face. Gently pat into the skin to help absorption.

Benton Snail Bee Ultimate Serum / 35ml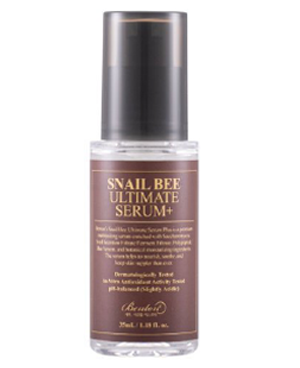 Description

KEYWORDS

sensitive skin / problematic skin / skin tightening / elasticity boosting / spot fading / snail skin / slightly acidic pH

BENEFITS

Contains 76,22% Saccharomyces chiganyal fermented filtrate, an excellent skin protector and a very effective absorption ingredient. Bee venom helps reduce skin problems. It tones and nourishes the skin and is also beneficial for skin imperfections. Contains tea tree leaf water, green tea leaf water and other herbal ingredients. Reduces skin problems and soothes the skin.

WHAT DOES
IT SOLVE?

• If your skin needs a product that protects it from damage.




• For skin that has lost vitality and has become inflexible.




• For skin blemishes, acne scars and other skin problems.


• For dull complexions and uneven skin tone.


MAIN
INGREDIENTS

• snail-snail-sac, bee venom, aloe leaf juice
• Niacinamide (vitamin B3): a stain-whitening ingredient
• Adenosine: skin tightening ingredient


HOW TO USE?

After cleansing your face, pump the right amount of product into your hands and spread it evenly over your skin. Gently pat into the skin to aid absorption (cotton wool discs can also be used).

* TIP: Wet a cotton ball completely and use as a pack on heated skin. This way you can tighten pores and enjoy the cooling effect at the same time.

Benton Deep Green Tea Serum / 35ml

Description

KEYWORDS

cooling / hypoallergenic / vitalising / soothing / calming / nourishing / mildly acidic / free from artificial fragrance, colouring and volatile alcohol

BENEFITS

• The home of Korean green tea, Boseong green tea makes up 53% of the serum, providing a unique cooling effect to soothe oily, sensitive and irritated skin.
• Salix Nigra (willow) bark extract, pomegranate extract reduces excess sebum and keratin on the skin, adding vitality to rough skin.
• 3-hyaluronic acid and panthenol step by step moisturise the skin, leaving it hydrated and refreshed.


WHAT DOES
IT SOLVE?

• Dull skin that needs immediate hydration and vitality
• Irritated skin that needs to be soothed from external stressors that cause uneven skin tone
• Delicate skin that is sensitive to the harmful environment or chemicals
• Excessive sebum production and poor oil-water balance
• Skin that needs refreshing care without irritation


MAIN
INGREDIENTS

• Green tea leaf water (50%), EG-Green (3%, green tea leaf extract, seed extract, root extract): polyphenol, vitamin, minerals etc. help to clear the skin
• 3-hyaluronic acid (sodium hyaluronate, hydrolyzed sodium hyaluronate, hyaluronic acid) Step-by-step hydrated skin, elasticity.


HOW TO USE?

Apply the correct amount evenly to the skin (for more hygienic use, store the pump with a plastic cap covering the pump inlet).
Benton Tea Tree Serum / 35ml


Description

KEYWORDS

tea tree / sensitive skin / soothing / moisturising / mildly acidic / oil-water balance

BENEFITS

• Excellent cooling and soothing thanks to 80% of Korean tea tree ingredients.
• It focuses on soothing the skin with betaine and liquorice extract. Whether you have sensitive skin or skin that has become problematic due to the external environment, this moisture-rich serum helps regulate the skin's oil and sebum balance and leaves skin feeling smooth.


WHAT DOES
IT SOLVE?

• Sensitive skin that needs active skin soothing
• For excessive sebum and oil production
• When external stressors and adverse environmental influences irritate the skin
• Unbalanced and devitalised skin


MAIN
INGREDIENTS

• Tea tree leaf: antibacterial, cooling, soothing, moisturising, skin protecting
• Betain: moisturizing, conditioning, promotes skin balance, provides vitality
• Licorice extract: Soothing, skin protecting, vitalizing


HOW TO USE?

• After toner to even out the texture of the skin, apply the right amount of serum and spread evenly.
• For areas that need soothing, place a cotton pad soaked in serum for 5 minutes to provide excellent cooling and soothing.
• For a more hygienic use, cover the pump opening with a stopper and close the cap.