Benton Snail Bee High Content Essence / 100ml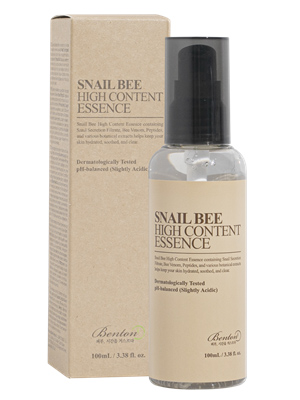 Description

KEYWORDS

sensitive skin / skin softener / dry skin / skin protection / snail skin / skin tightening / moisturizing

BENEFITS

• Benton's unbroken best-seller.
• A watery essence, ideal for combination and oily skin. Contains no oil-based ingredients.
• All-in-one product for those who don't like to use many different products or who don't like oil-based cosmetics.

WHAT DOES
IT SOLVE?

skin problems / uneven skin tone / pigmented skin / acne scars / itching caused by dry skin and skin sensitivity / lack complexion / stretching skin caused by dehydration

MAIN
INGREDIENTS

• Snail-snail-sac, bee venom, aloe leaf juice,
• Niacinamide (vitamin B3): a stain-whitening ingredient
• Adenosine: skin tightening ingredient


HOW TO USE?

• After cleansing your face, prep your skin with toner, then pump the right amount of product into your hands and spread it evenly over your skin. Gently pat into the skin to aid absorption.


* TIP: You can make your skin smoother and more hydrated by applying an essence before using the Benton Snail Honey Face Mask.

Benton Fermentation Essence / 100ml

Description

KEYWORDS

Galactomyces / fermentation / skin replenishment / firm skin / glowing skin / wrinkles

BENEFITS

It contains high quality fermented ingredients: fermented Galactomyces filtrate, Bifida Ferment lysate, EGF and ceramide.
Hydrates and firms the skin, excellent replenisher. Water-based product, non-greasy, contains skin tightening functional ingredient (adenosine). High value for money.

WHAT DOES
IT SOLVE?

• Dry and sensitive skin
• Sagging, wrinkled skin
• Dull, dehydrated skin
• Tight, dry and dehydrated skin
• Skin sensitive to harmful chemicals


MAIN
INGREDIENTS

• Galactomyces fermented filtrate: improves skin tone, hydrates and firms
• Bifida ferment lysate: hydrates, nourishes and firms
• Adenosine: anti-wrinkle ingredient


HOW TO USE?

After cleansing the skin, apply an appropriate amount to the face and spread evenly, then gently pat into the skin to help absorption.

* TIP: The essence provides intense hydration when applied before the face mask